Johnson, PhD, Edwin Clark (Toby), Catholic monk turned activist, psychotherapist and spiritual writer, was born in 1945 in San Antonio TX. He attended Catholic parochial school at St. Peter's, Prince of the Apostles in Alamo Heights, and then high school at Central Catholic High School (CCHS), the college prep school associated with St. Mary's University, both run by the Brothers of Mary (Marianist). A writing teacher at Central Catholic, Bro. Martin McMurtrey, S.M., changed the lives of many students, including novelist Whitley Strieber, spiritual writer Toby Johnson, college president Larry Goodwin, and Henry Cisneros, beloved former mayor of San Antonio, by teaching them to think and write clearly and coherently.

The most prominent and successful writer among Bro. McMurtrey's first–star–class of expository writing students was Whitley Strieber, the prolific novelist and autobiographer who has helped bring attention to the mysterious experience of alien abduction and other inexplicable phenomena in human consciousness. Toby Johnson and Whitley Strieber were boyhood buddies, carpool mates, and fellow fans of the esoteric, the mystical, and the fantastic. Bro. McMurtrey's lessons about the nature of metaphor and allusion, and Strieber's fascination with the mysterious prepared Johnson for his understanding the nature of religion according to Joseph Campbell a few years later.


Johnson entered religious life after high school, first as a Marianist and then as a Servite. With the 'Vites, he was in the first class of students at the then newly-formed Catholic Theological Union, (a consortium connected with the University of Chicago Divinity School, made up of the Theologates of three religious orders, the Passionists, the Franciscans, and the Servites). Johnson was fortunate to study under the influential Scripture scholars Barnabas Ahern, C.P. and John Dominic Crossan, both of whom–in very different ways–changed how the modern world understands the nature of sacred writings.
After a year in Chicago, Johnson worked in a Hospital Chaplaincy summer training at Metropolitan State Psychiatric Hospital in southern Los Angeles; that summer, in the "hothouse" of the mental hospital, he experienced the psychological breakthrough known in gay lingo as "coming out." Coincidentally (?!?) that was the summer of 1969; Johnson's personal "coming out" was within weeks of the national "coming out" of the gay world at Stonewall.
After that life-changing summer, he did not return to C.T.U., but remained in Southern California at the Servite novitiate in Riverside. Another life-changing psycho-spiritual event happened to him at the Servite Priory there (also known as Benedict Castle); the story of that enlightening "mystical experience" is told elsewhere in this website. (Johnson was honored to have befriended Roy Neuner, Allan Pinka (Oct 6, 1947 – Jan 4, 1989), Charlie Ruffner and Tom Sheerin during those years–all now deceased.)


After leaving seminary in 1970, Toby Johnson moved to San Francisco and lived in the Bay Area throughout the 1970s. While a student at the California Institute of Asian Studies (later renamed the California Institute of Integral Studies, C.I.I.S.) from which he received a master's in Comparative Religion and a doctorate in Counseling Psychology, Johnson was on staff at the Mann Ranch Seminars, a Jungian-oriented summer retreat program. There he befriended religion scholar Joseph Campbell and came to regard himself "an apostle of Campbell's vision to the gay community."


Johnson is pleased to identify his roots as Northern Californian, San Franciscan gay hippie. He actually lived on the corner of Haight and Ashbury Streets in the early 70s (admittedly a few years after the "Summer of Love" by which time the neighborhood had gone into decline). The photos of the familiar Haight-Ashbury sign at that intersection frequently show a Queen Anne Victorian turret on the apartment building in the background. That was Toby Johnson's apartment.

First as a peer-counselor and then licensed professional, Johnson worked as a gay-oriented psychotherapist in San Francisco in the mid-70s. As a member of the D.A.F.O.D.I.L. Alliance ("Dykes And Faggots Organized to Defeat Institutionalized Liberalism") and spokesperson for the Gay Mental Health Task Force of San Francisco's Health Department, he was instrumental in the adoption of a Gay Client's Bill of Rights, guaranteeing access to gay or gay-sensitive health care providers–a notion that, subsequently, had major effects in AIDS-related services.

In the late-70s, he teamed with Harvard-trained sociologist Toby Marotta in producing Marotta's books, The Politics of Homosexuality and Sons of Harvard: Gay Men in the Class of '67, and in working in a federally-funded ethnographic study of gay teenage prostutition.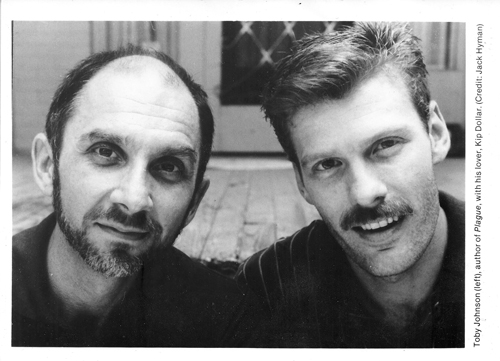 In 1981, Johnson returned to his hometown where he practiced as an openly gay therapist and served as co-chair of the San Antonio Gay Alliance. He met his lifetime partner, Kip Dollar, while Kip was working at Bexar County National Bank. They count the start of their thirty-plus year relationship as March 16, 1984. Toby and Kip organized Gay Pride celebrations, worked with fledgling AIDS Foundations, and helped found gay business societies in both San Antonio and Austin. From 1988 to 1994, Johnson and Dollar ran Liberty Books, the lesbian and gay community bookstore in Austin. They were the first male couple registered as Domestic Partners in Travis County, TX in 1993.
In 1997, Johnson and Dollar moved to the Rocky Mountains to start a gay Bed & Breakfast called The House at Peregrine's Perspective. They lived in a wonderful three story log cabin lodge in the Denver Foothills town of Conifer, CO on the highway to Fairplay and South Park. The current highway is built along the railroad right-of-way leaving Denver for California, a route that was important to the unfolding of the plot of Johnson's historical novel Getting Life in Perspective, written in 1994. The fictional "utopian colony" in the 1880s in the novel was situated almost exactly where Kip and Toby found a house for their experiment in running a country B&B. It was a marvelous adventure, but very cold and very remote. Kip needed to be closer to his ailing parents in San Antonio.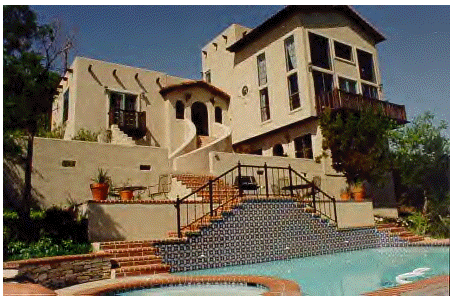 And so in 2000, the couple moved their B&B operation back to the Hill Country between Austin and San Antonio, to the town of Wimberley, where they called the B&B Casa Peregrino. After another three years, Johnson and Dollar sold this house (after doing major structural repair on the property) and moved to San Antonio in 2003. Johnson was completing a seven year term as editor of White Crane Journal of Gay Men's Spirituality. He passed the editorship to Bo Young and Dan Vera and shifted his own work to assisting Steve Berman's little one-man publishing venture Lethe Press bring out White Crane Books. Since that first project to preserve Gay Spirituality titles which had gone out of print (like Mark Thompson's Gay Spirit: Myth & Meaning and Johnson's own Gay Spirituality), Johnson has become Production Manager for Lethe and for the now-independent White Crane Books. He jokes that his karma must be resonating with the vibes of all those monks down through time who spent their days in the Scriptorium copying manuscripts to preserve them for posterity, only now instead of quill and ink, the manuscripts are produced with Adobe Creative Suites and Photoshop.

Kip and Toby lived six years in hometown San Antonio until after Kip's father's passing and his mother's developing a new life for herself. In 2009, they moved back to Austin. They both worked with Lethe Press, Toby as freelance editor and book designer and Kip as bookkeeper for some ten years.

The couple retired from Lethe Press in 2013/2014 as Toby was reaching age 70. Toby's continued doing a little literary editing and book layout and "self-publishing" for friends and previous Lethe authors. In 2018, they were legally married. There is a nice story about how they went from being denied marriage licenses in 1991 to being registered as Domestic Partners in 1993 to being issued a marriage license in 2018—and all by the same County Clerk, Dana DeBeauvior—an enthusiastic supporter of marriage equality all along. The marriage was performed by the Presiding Judge of the Travis County Commissioners Court, Judge Sarah Eckhardt, and the official witness was Jim Fouratt, one of the founders of the gay liberation movement in 1969.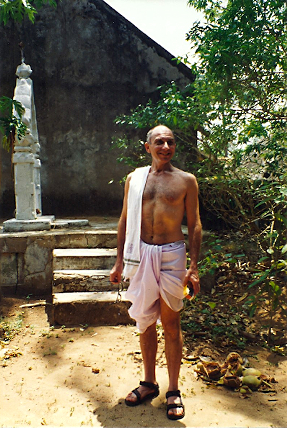 Toby looks like actor Ben Kingsley and so, by extension, Mahatma Gandhi. In 1996, Toby participated in an Earthwatch expedition to a small town in India. In this picture, he's wearing an Indian dhoti, the garment Gandhi often wore as an expression of solidarity with the traditional native peoples of India.
Johnson is author of three autobiographical accounts of spiritual development: The Myth of the Great Secret: A Search for Meaning in the Face of Emptiness about his discovering a modern understanding of religion; In Search of God in the Sexual Underworld about his experiences–and interpretation of events as a religion scholar–in the study of teenage prostitution; and The Myth of the Great Secret (revised edition): An Appreciation of Joseph Campbell which added substantial anecdotal material about his mentor. In 2017, Johnson updated his spiritual autobiography in the book Finding Your Own True Myth: What I Learned from Joseph Campbell: The Myth of the Great Secret III.

Toby Johnson is author of four gay novels: Plague: A Novel About Healing (reissued as The Fourth Quill, 2012), Secret Matter, and Getting Life in Perspective. Secret Matter, a sci-fi, romantic comedy about truth-telling and gay identity featuring a retelling of the Genesis myth with a gay-positive outcome, won a Lambda Literary Award in 1990 and in 1999 was a nominee to the Gay Lesbian Science-Fiction Hall of Fame, the first year of the award. He collaborated with historian, anthropologist Walter L. Williams on the novel Two Spirits: A Story of Life With the Navajo. And co-edited, with Steve Berman, publisher of Lethe Press, an anthology of gay-positive stories, Charmed Lives: Gay Spirit in Storytelling.

He is also author of Gay Spirituality: The Role of Gay Identity in the Transformation of Human Consciousness and Gay Perspective: Things Our Homosexuality Tells Us about the Nature of God and the Universe. From 1996 to 2003, he was Editor and Publisher of White Crane: A Quarterly Journal of Gay Men's Spirituality. Finding Your Own True Myth: What I Learned from Joseph Campbell (2017) tells Johnson's personal story of learning the real nature of religion and discovering the spiritual qualities of gay consciousness.

Johnson's central idea is that as outsiders with non-gender-polarized perspective homosexuals play an integral role in the evolution of consciousness–especially regarding the understanding of religion as myth and metaphor–and that for many homosexuals gay identity is a transformative ecological, spiritual, and even mystical vocation.
| | |
| --- | --- |
| Secret Matter | 1990 |
| Gay Spirituality | 2000 |
| Gay Perspective: Things Our Homosexuality Tells Us about the Nature of God and the Universe | 2003 |
| Charmed Lives: Gay Spirit in Storytelling | 2006 |
| Getting Life In Perspective | 2007 |
| The Fourth Quill | 2012 |
| Finding Your Own True Myth: What I Learned from Joseph Campbell: The Myth of the Great Secret III | 2017 |
| Two Spirits:  A Story of Life With the Navajo | 2018 |
| Getting Life in Perspective: A Fantastical Romance | 2018 |
| Gay Perspective: Things our [Homo]sexuality Tells Us About the Nature of God and the Universe | 2018 |